The 10 Best Tanzania Hostels
Read on to know more about ten hostels in Tanzania you can stay at. Staying in these hostels is another way to cut down your costs as most resorts in beach locations like Zanzibar are expensive beyond comprehension.
1. The Slow Leopard
One of the most popular hostels in Dar es Salaam Tanzania, this place is clean, safe and quite hospitable. Mainly a cafe, the place has a dormitory as well as a double bedroom to cater to your accommodation needs. The bar and the garden here are the perfect places to chill at with your new friends. The food is cheap and the service is great at the price it is being offered. Remember to carry your own locks if you are planning to stay in the dorms of hostels in Tanzania and you would be well taken care of.
Location: Chole Road, Masaki, Dar es Salaam, Tanzania
Starting price: INR 1200
TripAdvisor rating: 4.5
2. Hostel Hoff
There are a number of hostels in Moshi Tanzania, given the proximity to Kilimanjaro, where you will find decent service and clean accommodation. Hostel Hoff, however, is one of the best places to stay at in the city. The rooms are nice, the staff is quite helping, you can even find volunteering projects here, which will help fund a long-term stay. The place has an international clientele, which means safety is not an issue here. You will meet many backpackers and volunteers from different parts of the world in this amazing property, who all live together as a tight-knit community.
Location: Kengeleudongo Street, Moshi, Tanzania
Starting price: INR 1300
TripAdvisor rating: 5
3. New Teddy's Place
One of the best Tanzania backpacker hostels, this beachfront property is all you could ask for an economical trip to Zanzibar. The food is great, the company is amazing and international and the place oozes bohemian vibe given its shack-like appearance, making for the perfect beach vacation. You can enjoy at the pool area or go have a dip in the sea nearby. Their bar is stocked at all times, this is the perfect place to make new friends from all over the world without burning a hole in your pocket!
Location: Paje, Tanzania
Starting price: INR 1500
TripAdvisor rating: 4.5
Suggested Read: Safari In Tanzania: For An Exquisite Encounter With The Wild Side of Africa!
4. Kilimanjaro Grand Hostel
Another good option to stay at while in Moshi, Kilimanjaro is located very conveniently. The staff here is quite helpful and you would get a good idea about local sightseeing as well as a trek up to Kilimanjaro by talking to the caretakers here. They serve excellent breakfast, free WiFi is available and you can always volunteer with their own NGO helping the cause of education for the local kids. What more can you ask of a backpacking trip to Africa?
Location: Taifa Road, Moshi, Tanzania
Starting price: INR 1200
TripAdvisor rating: 5
5. Tumaini Hostel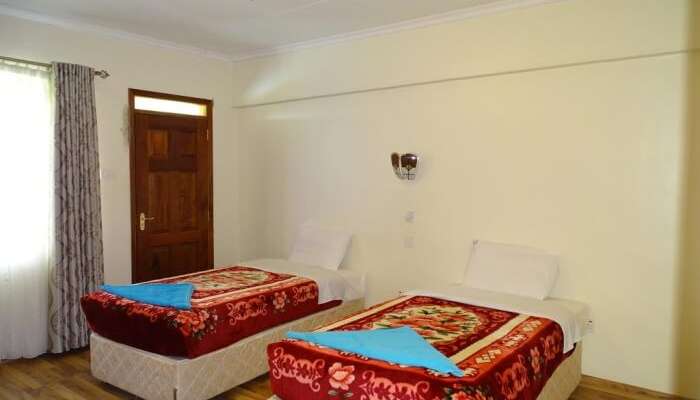 Located in Lushoto, this beautiful property has the best landscapes to offer. Sit in the balcony when the sun rises with a hot cup of coffee and all your worries will be taken care of. The place is quite basic, so do not go in expecting a lot of amenities, but the cleanliness, hygiene, and attitude of the staff more than make up for it. They work on a bed and breakfast kind of system, which will help you save money while you are at it.
Location: Main street, Lushoto, Tanzania
Starting price: INR 1200
TripAdvisor rating: 3.5
---
6. Ten To Ten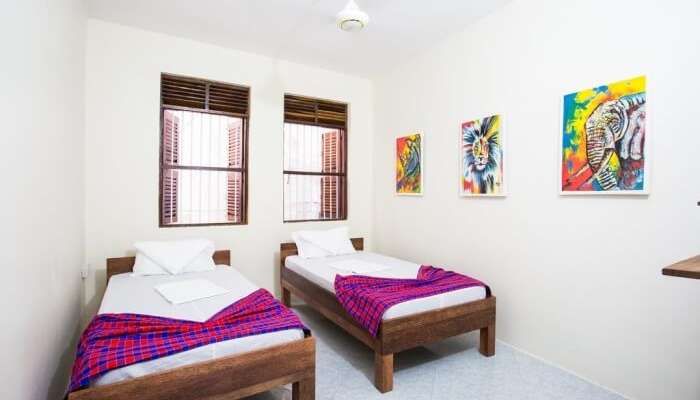 Located inside Stone Town, this is the place to stay at if you want some genuine local feels. They have air conditioning, free WiFi and breakfast along with bunk beds in a dorm, which means you can save up a lot of money to travel around. The place is clean, comfortable, safe and offers a lot of privacy even when you are in a dorm. Its location is the icing on the cake, which makes it perfect for a week-long stay in Zanzibar if you are traveling solo.
Location: Gizenga Street, Stone Town, Zanzibar, Tanzania
Starting price: INR 650
TripAdvisor rating: 4.5
7. Arusha Backpackers Hotel
One of the best hostels in Arusha Tanzania, this place is built like a hotel, but it, in fact, is a backpacker haven. You will find people from every corner of the world in this place. Their terrace is quite popular among travelers to catch up, have a beer and enjoy with fellow travelers and friends. The rooms are smaller, which is why the place does not charge a fortune, but comfortable for a short stay. Do check out when you are in the area as most seasoned travelers prefer it in the Arusha region of Africa.
Location: Sokoine Road, Arusha, Tanzania
Starting price: INR 900
TripAdvisor rating: 3.5
8. Drifters Backpackers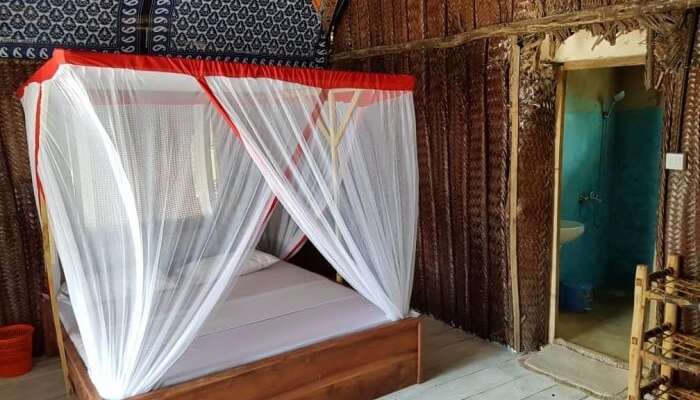 This supercool property is located near the beach, which makes it the perfect place for backpackers and people who are looking to have fun. You will find many fun parties happening nearby, however, this place does not host any party itself, which means you can sure catch up on sleep while you are here. Again, wonderful crowd, great cocktails and amazing food make it one of the best hostels in Tanzania.
Location: Paje, Zanzibar Island, Tanzania
Starting price: INR 1700
TripAdvisor rating: 5
9. Aspen Hostel
There are a number of different hostels in Mwanza Tanzania, where you can stay while traveling to the northern part of the country. Aspen is one such property which is priced very leniently making it great for solo travelers. The place is old but is quite comfortable. The place is located well, which makes traveling to different parts of the city quite easy. It might not be the poshest of accommodations, but the price and strategic location more than make up for it.
Location: Uhuru Street, Mwanza, Tanzania
Starting price: INR 750
TripAdvisor rating: 3
10. Lost And Found Hostel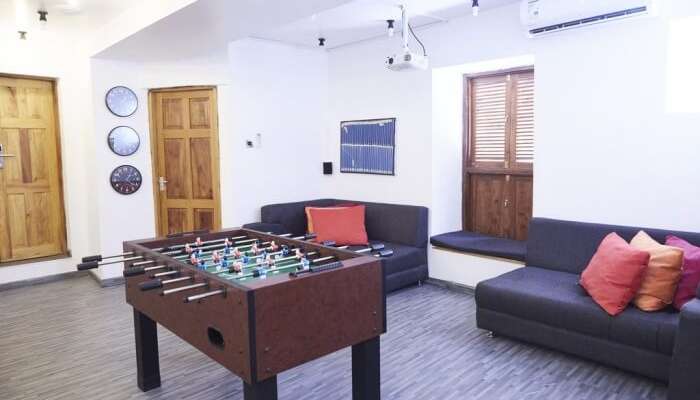 One of the cheapest but quality accommodation in the town of Zanzibar, this place is comfortable, crowded and lovely. People from different backgrounds living together in the dorms, along with the living area, makes for interesting conversations. Their beds are huge, the place is sanitary and the beach can be walked down to from here. It is a lot of good things rolled into one. Located in the city center, the best part about this place is that it is open 24/7 which means no waiting to get checked in or checked out. The food is good, the staff is great, making this place one of the best Tanzania backpacker hostels overall.
Location: 57 Kenyatta Road, Stone Town, Zanzibar, Tanzania
Starting price: INR 700
TripAdvisor rating: 4.5
Further Read: Tanzania Nightlife: 10 Best Bars & Clubs To Stop By For An Unforgettable Evening
Are you a frequent backpacker? The country of Tanzania and the rest of the continent of Africa are perfect for cheap, economical travels to explore the birthplace of humanity. You will run into people from so many different places, and you can definitely donate your time and energy to causes bigger than you in this place.
Most hostels in Tanzania are attached to one or the other NGO, which means you can easily find projects to volunteer in if you ask around. Book your holiday in Africa today to explore Tanzania at its best! And don't forget to share this with your other explorer buddies!